Documentary Collection
Description of the collection
The Arxiu Alicia de Larrocha is an exceptionally unified and coherent collection of documents as far as its size and contents are concerned. The collection is a record of the pianist's personal life and professional career from her early childhood to the events and tributes that are still being paid to her. The main corpus of documents are those that span a period that began in 1929, when she gave her first concert, and ended with her last public performance in September 2003. In addition, it contains family documents from the collections of Joan Torra, Conxita Rauret and Carolina Lacalle, as well as documents connected with the Acadèmia Marshall, where she was trained and later on director from 1959 to 2009.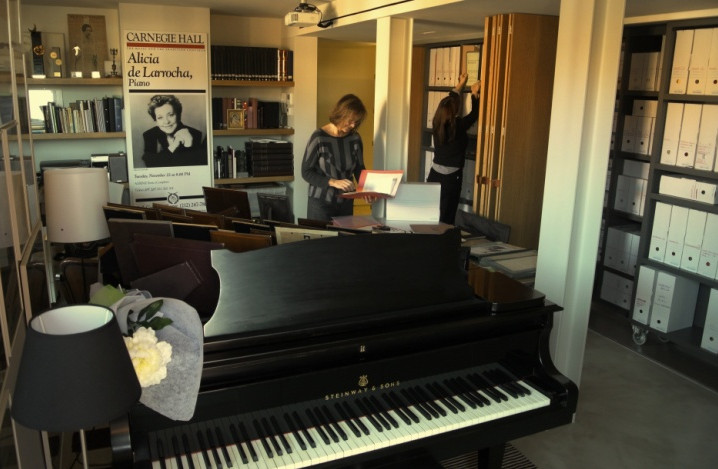 Personal collections are usually made up of many different kinds of documents: hand-written and printed scores, commercial and non-commercial recordings, books, graphic and photographic material, hand programmes, press cuttings, audiovisual recordings, correspondence, academic documents, notebooks, prizes and awards, tributes, dresses, etc. Specially interesting and exceptional is a series of recitals and concerts recordings which were made by friends and devoted supporters and were never issued commercially, as well as many scores with hand-written suggestions about their execution and interpretation and, in many cases, holographic dedications from composers such as Mompou, Montsalvatge, Suriñach, Turina, Esplà and others. Lastly, a series of pieces that Alicia de Larrocha wrote in her childhood and youth are noteworthy as an example of Alicia as a composer.
The documents have been studied and analysed into the following collections:
Creative works
40 complete childhood and youth works and one folder containing sketches.
Printed and hand-written scores
12 metres of scores, most of them with hand-written suggestions about how they are to be played, as well as technical notes from recording sessions.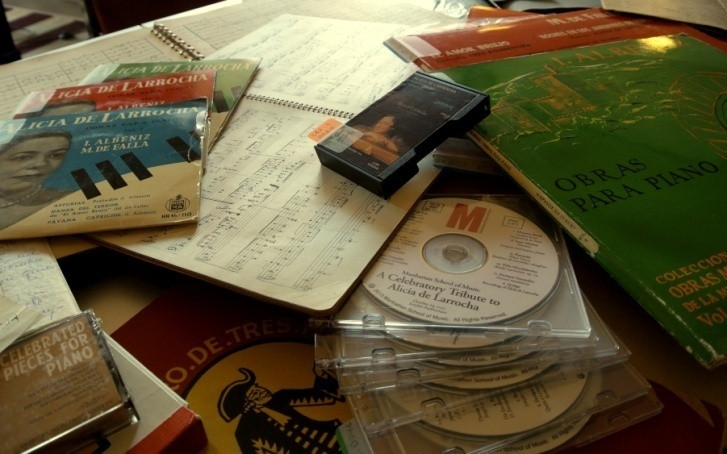 Sound documents collection
The collection currently consists of about a thousand documents in various formats:
Commercial recordings:

135 LPs
100 CDs
25 cassetes

Non-commercial recordings:

26 tape reels
466 cassetes
85 CDs

Live" concerts and recitals, most of them accurately dated according to information gathered from personal and professional notebooks. This is the most comprehensively described body in the catalogue.

Interviews and master classes
Audiovisual material
70 documents mostly from television recordings, in addition to interviews, master classes and family and commercial recordings.
Correspondence
3 metres of documents connected with the artist's professional life (agents, students, record companies, musical and academic institutions, etc.), as well as her more personal life (relatives, friends and colleagues).
The Joan Torra collection compiles 1 metre of letters to and from Alicia de Larrocha.
Concert programmes
4.80 metres of concert programmes from 1929 to 2003. Musical events up to the present are included.
Posters
50 posters in different sizes and printing techniques.
PRess cuttings
6 large-format albums and 2 metres of press cuttings about the pianist's career, both at home and abroad.
Awards, honors, prizes
Collection of 150 awards, diplomas, medals, commemorative plaques, etc., received during her professional and academic career.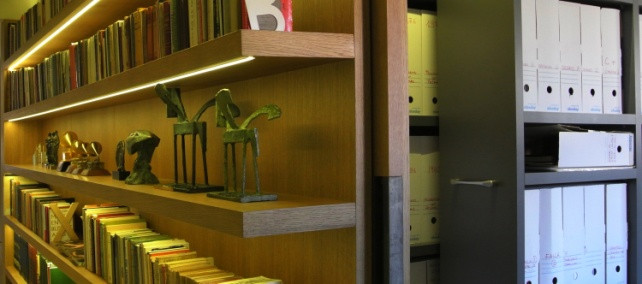 Photographic collection
36 albums covering the artist's professional period, 1929-2009, and 2 metres of family and professional photos.
Clothes
30 dresses plus accessories: shoes, scarves, hats, etc.
Notebooks
73 professional and personal notebooks with notes on concerts schedules, rehearsals and other events.
Library and record collection
15 metres of books and magazines make up the musical library, as well as 1.70 metres of LPs; 10.20 metres of CDs and 3.85 metres of cassettes by other performers.